Award-winning Orchard Toys are launching three exciting new lines this May at the Independent Toy & Gift Show, as well as a fresh redesign of their popular 'What a Performance' game.
Superhero Lotto is a superpowered matching and memory game featuring four fun superheroes with special powers! Players must use their memory skills to match power tiles and be the first to complete their board. The double-sided lotto boards include fun superhero fact files on the reverse, as well as blank tiles for a more challenging level of play. This has been launched into the range following an incredibly successful test launch through a promotional campaign in Q4 last year.
One Dog Ten Frogs is a giant floor activity, counting and memory game, with super sized discs for even more fun and play value! This includes a variety of friendly characters to count and pair, helping children learn to count up to 15 with the help of the handy reference board. Once completed, players can work together to make a number line with the jumbo circular cards!
Joining Orchard Toys' first puzzle range is 'Dinosaurs', a collection of six chunky 2-piece dinosaur puzzles which are perfect for little hands. Children from as young as 18 months will love matching the friendly and colourful dinosaur characters.
Orchard Toys' family favourite What a Performance has been given a fresh redesign and new improved gameplay, with over 300 fun challenges to perform! This all-action board game brings the family together, challenging players to perform a variety of noises, actions and activities! This game will be supported by a strong PR and Marketing campaign in Q4 2018.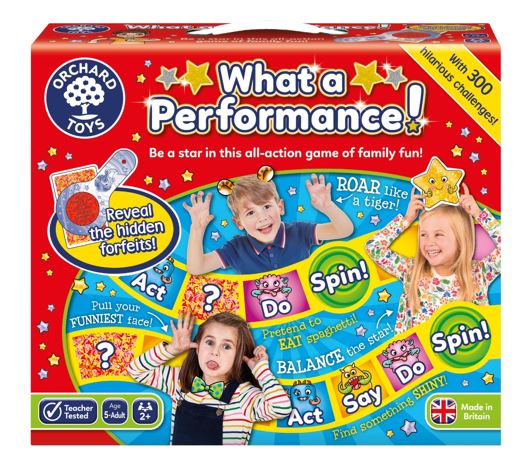 FREE stock pack worth £82, including 2 of each of the new lines! Offer valid on all orders placed at the show over £400 net for delivery by 31st May. Plus visit out stand to receive FREE product in our superhero 'show stopper' offer!
See the entire range at the Independent Toy & Gift Show 2018 - register now www.independenttoyandgift.co.uk/register-now